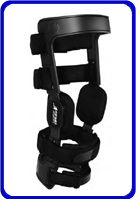 The REVOLUTION™ is the newest approach to functional bracing. It is ideally suited to be used in early post-injury or post-operative phase of treatment, following a cruciate or collateral ligament injury.
The REVOLUTION™ is designed to be anatomically contouring, and provides Composite Stability™ allowing the brace and the leg to work as one.
Indications:
Mild to moderate instability
ACL, PCL, MCL, LCL injury or surgery
Hyperextension control
Features:
Heat formable cuffs - dynamically accommodates leg shape, limits migration
Lightweight materials; less than 18 oz. - increases patient compliance
Dynamic strapping system aids in neutralization of the tibia in relation to the femur
Various flexion and extension levels - accommodates early post-injury or post-operative application
One year warranty on frame and hinge
Six months warranty on soft goods padding and straps
Revolution Knee Brace Ordering
* Measure circumference of thigh 6" (15 cm) above mid patella.
Left

Size

Right

505402
XS,   13" - 15"
505412
505403
SM,  15" - 18"
505413
505404
MD,  18" - 21"
505414
505405
LG,   21" - 23"
505415
505406
XL,   23" - 26"
505416
505407
2XL, 26" - 29"
505417

Accessories

Size

Description

590019
N/A
Condyle Pad Kit
50297 X
XS - 2XL
Under Brace Sleeve
590027
N/A
0 Degree Flexion Stop Kit